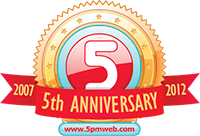 This November we are proud to celebrate five years of constant growth and improvement of our 5pm project management app.
We are continuing to improve 5pm and are working on exciting new features like a new iPhone app, a new Timeline version, an in-app chat – to mention a few in development right now.
We want to thank all our clients for the feedback and support, and are looking forward to new ideas to work on!