Following up on our post about 5pm supporting Firefox 3, we did run a couple of tests and here are the results: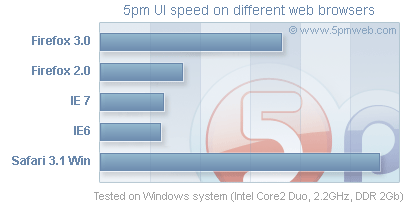 We measured the relative time it takes to render the main 5pm screens. As you can see, Firefox 3 is more than twice as fast as Firefox 2 – an amazing speed improvement. So, if you are still using Firefox 2, you may consider upgrading.
Fastest, by far, is still Safari, with IE 6 and IE 7 performing about the same and still slower than the other browsers.
5pm has a very quick interface that requires less clicks and will run fast in all the supported browsers.
Want to find more about 5pm? Visit our website at www.5pmweb.com .