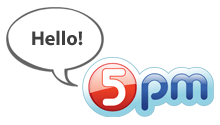 5pm interface is now available in Bulgarian! Special thanks to Tanya Toneva from careltranslations.com who helped with the translation.
All together 5pm is available in twenty(!) languages now: English, Swedish, French, Russian, Spanish, Portuguese, German, Polish, Italian, Croatian, Dutch, Finnish, Danish, Serbian, Hungarian, Slovak, Turkish, Korean, Chinese (Simplified) and now Bulgarian!
Want to see 5pm translated into your language? Any 5pm user can contribute (including the free trial accounts) – just use the "Settings" menu on the top of your 5pm screen. There is a link there called "5pm Translation" that will take you to the public translation area.