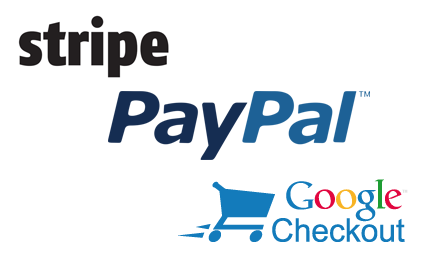 This is a follow up the the post "
Stripe vs PayPal
".  
"We're reaching out to remind you that as of today, Google Checkout is officially retired."
That was the start of the email from Google Checkout today… they have been announcing it for a while.
As mentioned in the Stripe vs PayPal post, Google Checkout never really worked for recurring payments. We only used it for one-time payments as an alternative to PayPal. It worked better internationally.
With Google Checkout out of the picture,there is more space for companies like Stripe.
While PayPal is big,they did not innovate much in web payments lately. The PayPal interface needs a redesign. You send a customer to their website for a subscription upgrade and they are back with two different subscriptions instead – a typical case. So now we have to cancel the duplicate subscription, refund the difference, email the client, etc. It's like sending them to the wilderness without a map and waiting at the edge of the forest to see if they emerge unscathed. If they do at all…
The PayPal website is just not intuitive and sending users there to complete the payment is not a good experience for them. Not to mention the upgrade limits for recurring payment plans.
Stripe is different, because you don't have to send your clients to their website – which is a great site anyway! The merchant side of it is simple and nicely done. And it is fast. Perhaps it is simplistic and needs a little more features, but it looks like Stripe has been busy – expanding to: Canada, UK, Ireland and many other counties in beta right now (that's for setting up your own Stripe merchant account. With an existing account in US you can accept credit cards from anywhere).
So how is Stripe doing for us so far? It is doing very well – upgrades, cancellations, refunds, partial refunds – we already went through all of those scenarios since the start of the year, and it just works. Plus we don't have to send our clients into the wilderness.
We are still running PayPal in parallel to Stripe. Both options are presented side by side, Stripe being listed first simply as a "credit card payment" (Stripe is non-branded, so that's another advantage). So, from UI point of view, the Stripe button has an advantage… Still, the ratio of new subscribers is:
Stripe vs PayPal
2:1
It is actually even a bit higher, so we had to approximate.  It does not look like the PayPal brand makes people click its button over other payment methods.
Don't get me wrong – PayPal is still a reliable work horse, but it is good to have some viable options.
It will be interesting to see how Stripe grows, and how PayPal responds. Or if the space left by Google Checkout is large enough to see some new options coming out soon.